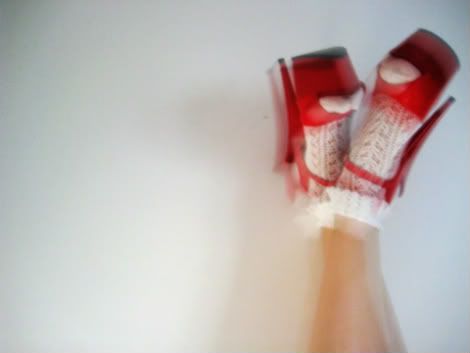 Tämä loppuviikko on pikkujoulujen! Löysin pakkaillessani tanssikenkänikin.
Minulla on kauhea tukka, joka kaipaa epätoivoisesti leikkaamista ja väriä. Mutta ajattelin säästää kampaajarahat lahjoihin ja ruokaan ja kammata otsiksen sivulle, pistää siihen pinnin ja laittaa paljettipaidan päälle. Kaikkien katsoessa paljetteja voivat hiukset olla vähän pitemmät niskasta, eikö?
Or in other words: This week's for Christmas parties! I want kisses & dances & friends & glitter! My hair doesn't quite groom okay: desperately it cries for a cut & some colour. But thought about saving the money from hairdressers to gifts for myself and food & drink, so I'll comb it pretty, put a pin on and hope everyone will look at my sparkly sequinned top instead of the little too long hair on the neck.