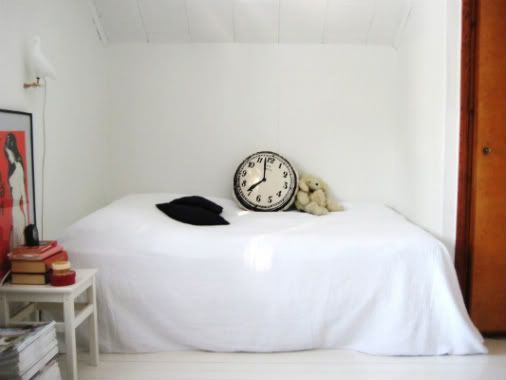 Yläkerrassa lännen puoleinen huoneesta on tehty pieni makuuhuone. Syvennykseen sopi kierrätyskeskuksesta hankittu laveri täydellisesti - molempien pituus 190 cm. Yhteenmuutettaessa ostin uuden päiväpeiton, kun kummankaan vanha ei sopinut toiselle: minä inhosin retro
a haaleaa murretun vihreää peitettä, eikä vaalean roosa viskoosisametti oikein istunut poikkiksen makuun. Yövalo, Thorsten van Eltenin kyyhkysvalaisin, on molempien suosikki. (Haaveilen valkoisen valaisimen värillisestä taustasta.) Yöpöytää emme ole vielä löytäneet - sillä aikaa kirjojen alla on pelkkä valkoiseksi maalattu jakkara. Elokuvajulisteen löysin kellarista ja asetin paikalleen, koska se sopi voidepurkkiin ja Vladimir Sorokinin Jono-teokseen. Tai silleen kokeilin.
Or in other words: Our bedroom is at the attic, the bed at a conveniently sized nook. The Pigeon light from Thorsten van Elten and bed cover from H & M Home are white, and kind of like a compromise - I hated bf's retro olive green bed cover and my rose coloured shimmery velvet cover was too romantic for him.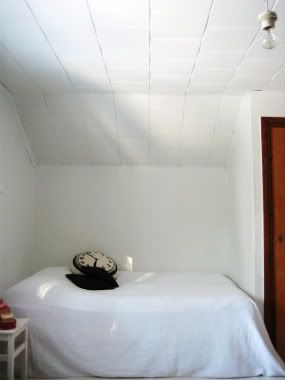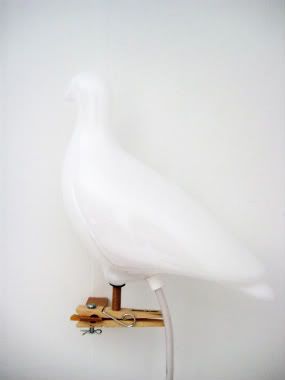 Näissä kuvissa on jotain noloa. Olenko häveliäs, tai onko makuuhuone ja vuode jotenkin vaan niin keskeneräinen. Sängylle on heitetty ne tyynyt, jotka eivät muualle sopineet ja siellä istuu myös teddy, joka on oikeasti siis reppu - minulla ei ole pehmoeläimiä. Vanha elokuvajuliste kehyksissä on vinossa eikä Tuulen viemää tai Scarlett ole kummallakaan kesken.
And in other words: There's something embarrassing in these pictures. Perhaps I'm coy, or that this is one of our (many) unfinished projects, with objects found no use anywhere else, put here without a plan or meticulous total look. For one, I don't own stuffed animals - the teddy bear is a ruck sack, it really is. I'm not currently reading either Gone with the Wind nor Scarlett. The old film poster in the cheap frames I can't seem to get it straight.