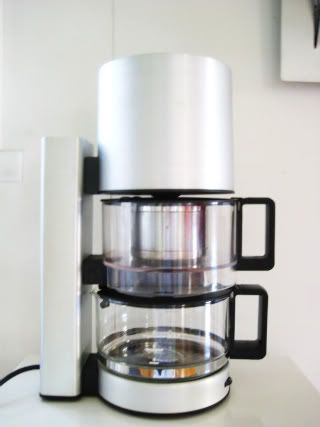 Laite, jota ystävällisesti kutsun pömpeliksi, muutti meille sunnuntaina. Poikkis rakastaa ja hankkii aina kirpputorilta jänniä juttuja - mankelin (Kokkola, 2009) tai taskulampun muotoisen kattovalaisimen (Mauerpark, 2010).
Tämä on kuulemma teenkeitin. Teestä poikkis tykkää ehkä yhtä paljon kuin oudoista laitteistakin. Eikö olekin hieno, se säteili. Öö. Joo. Minne se menee?
Niin, minne se menee?
Or in other words: Bf loves fleamarket finds. (He has a dream of renting a big caravan wagon and making a fleamarket roadtrip.) This thinggummy was his lates purchase. What is THAT, I asked, astonished. It's a tea maker, he beamed at me. Isn't it great?
Yes. Erhm. Well. Sure. But where does it go?