Tänä vuonna joulu on minulle katkeransuloista aikaa. Vaikka pääsenkin viettämään joulua (vihdoin) kotonani, perheeni ja rakkaitteni parissa, on joulu samalla lähtölaskenta parhaan ystäväni lähdölle kauas pois. Paras (ja vanhin) ystäväni lähtee loppiaisena vaihtoon Japaniin. Buuaisin koko ajatukselle, ellen tietäisi, miten törkeän hienoa niin monella tasolla se on.
Yksi suurimmista peloistani on, että takaisin tullaan Muuttuneena. Sormet ristiin, että kiertoon lähtee vain hiustenväri. Se kun on, paitsi tärkeintä, myös ihanan triviaalia. Vaikka oma identiteettini on riippuvainen siitä, että kerran kuussa tyvikasvu käsitellään mustalla, tiedostan kuitenkin, ettei toinen väri automaattisesti tarkoita kolmea lasta ja toyotaa takapihalla.
Pelkkä kesänvietto Saksassa sai minut nimittäin ymmärtämään, ettei tumma hiustenväri ole välttämättä originaalia missään muualla kuin Skandinaviassa. Berliinissä kellään ei ollut vaaleaa tukkaa, ja jos oli, niin hej-då, ne olivat ruotsalaisia turisteja. Tunsin itseni nolla prosenttia kapinalliseksi.
Ja jos joskus syleilisin geeniperimää, luonnonmukaisuutta ja luopuisin synkästä identiteettifilosofiasta, ottaisin ehkä inspiraatiota Iris Strubeggeristä ja tästä Stella McCartneyn kevään 2011 RTW -kokoelman tyylikkäästä epätyylistä.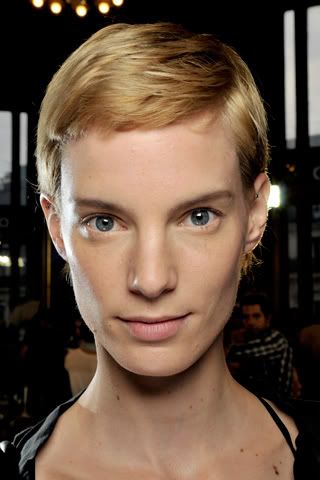 Or in other words: The idea of a black hair is original only in Scandinavia, where over half the people lack obvious pigment. The revelation came to me whilst in Berlin for summer. The only (genuine) blondes in Mid Europe seem to be Swedish tourists. These things (& many more) one gets only by leaving home. Which is why I call it bittersweet that after Christmas my best friend sails for Asia for six months.
Here's how I would most likely look after half a year spent in place like Japan. Iris Strubegger in Stella McCartney Spring 2011 RTW has what I believe is somewhat close to my own hair colour (hard to be sure, though - last time my true colours were shown I had just shaved my head and almost kept it for 2 weeks).