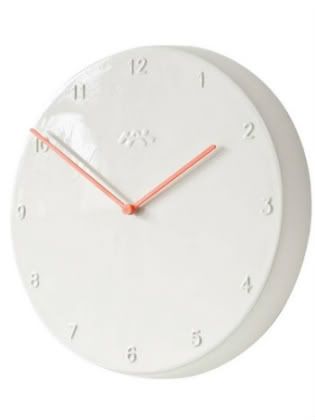 Voisipa viikonloppuna kääntää tämän seinäkellon viisareita. Birgitte Due Madsenin & Jonas Trampedachin keraaminen seinäkello on ihana.
Or in other words: Changing clocks back coming weekend, I kind of wish I had one - a cute one. As my taste - like everything else around me - is in a continuos state of metamorphosis, it's a tricky pick. I want things to be simple and light, yet elegant and interesting & perhaps little quirky - but not too much.
Yesterday browsing I think I found it - the perfect wall clock to reflect my time! The pretty ceramic wall clock by
Birgitte Due Madsen & Jonas Trampedach would gently remind of the time, I think, and not too loud or pressing.
Pity it's out of my price range at the moment!