Aivan kuin elämä purkamattomien laatikoiden ja kylpyhuoneremontin keskellä ei olisi tarpeeksi, loppui lämmitysöljy ja sitä myöten lämmin vesi. Kesällä lämmitystä ei ehkä niin kaipaa - villasukat kuuluvat Suomen kesään ihan itsestään - mutta kasvojen pesu jääkylmällä vedellä on aika kaukana mukavuusalueestani.
Punaisesta väristä riisutussa olohuoneessa voi vapaapäivänä vain istua läppärillä kuunnellen levyjä. Ilman niitä olo on kuin vähän hienommalla mökillä.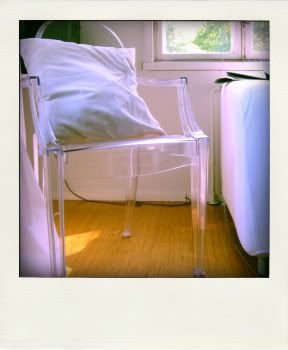 Ps. Kesämökkien ei mielestäni kuulu olla hienoja missään tapauksessa.
Or in other words: As if life with unpacked boxes and without a shower wasn't enough, somebody forgot to order the heating oil. That stopped the warm water. We now have come to a serious downbreak in my standard of living. Work keeps me busy, though, now that it has begun. After a days work & doubled time way home I am way too exhausted than just to simply grateful to have a bed to go to.
When finally I have a day off I listen records & lounge with a laptop.