Palattuani kotiin olen selaillut blogeja, jotka jäivät vähälle huomiolle loman aikana. Parasta blogeissa on inspiroituminen, etenkin ongelmanratkaisuun, josta salaa aina välillä huolehtii. En varmasti koskaan väsy etsimään esimerkkejä pienten tilojen sisustamiseen. Yksiö on minusta oikea haaste. Kaksikymmentä neliötä on k-a-k-s-i-k-y-m-m-e-n-t-ä n-e-l-i-ö-t-ä. Yksiöissä sänky on aina esillä, ja viktoriaani minussa pitää sitä häiritsevän intiiminä. Säilytystiloja on aina vähän. En tiedä, onnistuuko 20 neliötä ikinä näyttämään kauniilta, mutta Emmas Designblogin ja Trendeyn ansiosta inspiroiduin näkemään uudella tavalla jo omistamani huonekalut ja keksimään ratkaisuja ongelmiini.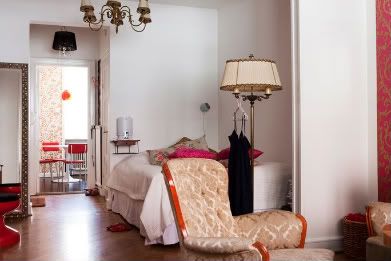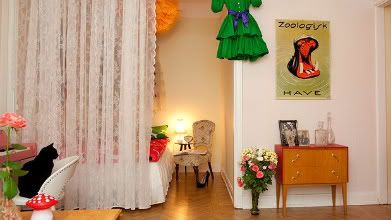 Erityisesti se, miten voisin sovittaa vanhan, roskalavalta pelastamani sohvan ja nojatuolit pieneen kerrostaloyksiöön - jos joskus sellaiseen palaan - ja olla raikas ja moderni samaan aikaan tuntuu vaikealta. Ihana Elsa Billgren on yhdistänyt vähän samanlaisen sohvan kuin omani Ikean Stockholm -lamppuun.
Or in other words: I love the interiors in these pictures, found via Emmas Designblogg & Trendey. They show me again the things I have and love: old, trifted pieces mixed with new and fresh white modern/postmodern. Been thinking lace curtains all spring & summer. They also convey a messege to me: one room for day & night could be a fairytale of practicality, like Elsa Billgren's lovely apartment.