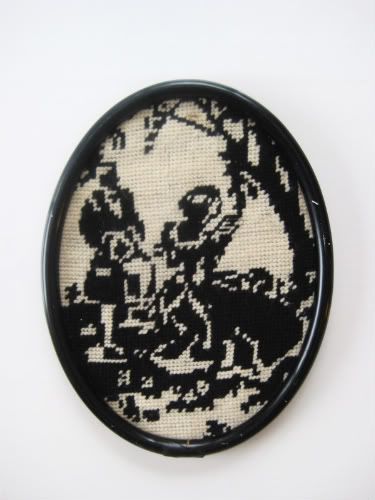 Se menee näin: Poikkis ehdottaa kirppareilla käymistä. En tahdo lähteä, koska minulla ei ole rahaa enkä tarvitse mitään. Poikkis rakastaa kirppareita. Minä rakastan häntä, joten lähdemme. Kirpparilla minä tuhlaan rahani ja raahaan kotiin jotain hassua ja järjetöntä -
- Kuten nämä kaksi ristipistotaulua, jotka olivat niin söpöjä, ja lisää kirjoja, joille meillä ei ole vieläkään kirjahyllyä.
Or in other words: This is how it goes: Bf wants to go tour the flea markets. I say no cause I have no money and I don't need any more stuff. He says yes, cause he loves flea markets. And so we go, it's always me who ends up with half-crazy knick knacks
- Like these two kitschy cross stich works & couple of books we still don't have a book shelves.