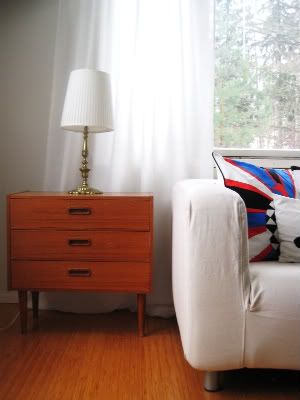 Puoli vuotta muuton jälkeen olen vieläkin vähän hajalla siitä missä kaiken pitäisi olla. Toisinaan en edes välitä. Sitten on taas pakko vähän yrittää.
Niin kuin eilen. Poikkis on ostanut pienen vanhan lipaston yhdessäoloaikanamme vitosella kirpparilta. Huonekalu oli aluksi makuuhuoneessa, sitten vähän tarpeettomana, kun pienempi makuuhuone yläkerrassa valmistui ja vaihdettiin pienempään.
Olohuoneessa on sohvan toisella puolella outo nurkka. Siinä nurkassa on huono olla mitään; skitsoilen aina kun näen sen. Etenkin ärsyttää miten verhot roikkuvat lyhentämättöminä, koska verhotangot ovat liian matalalla, ja hirveät sitä paitsi; emme saa ostettua uusia verhotankoja, vaikka joka kuukausi yritän. Ja se nurkka on liian pieni millekään, mutta silti liian suuri ollakseen tyhjänä, ja pimeä iltaisin.
Ja eilen laitettiin siihen sitten se pieni, orpo lipasto. Arvotaan vielä, jääkö se siihen. Hain sen päälle lampun: vanha äidiltäni saama lampunjalka, johon etsin kellarista valkoisen Ikea-varjostimen. Vaikka en oikein tiedä. Olisi kivempi, jos varjostin olisi vähän modernimpi?
Äh, en tiedä! Aina välillä se on hieno, välillä hirveä. Niin, en oikein osaa täällä.
Or in other words: Half a year has passed since I moved in here, but I just can't get a grip of things around here.
The small cabinet was bought by bf while we were going out together for a fiver in a flea market. And the old lamp is from my mother. It used to be my night lamp when I was little.
The living room has an odd corner on the other side of the Klippan sofa. It kind of reminds me of all the stuff we have undone - the curtains hang unhemmed, because the curtain poles are too low and hideous anyways; we should buy new curtain poles, but haven't had the time & money.
I sometimes want to quit making an effort, but somedays do try - like yesterday, when we put the little cabinet to that small corner in the living room and put the old lamp on it with a random Ikea shade - the shade had some damages, but we turned the bad side next to the wall - I'd like something a bit more modern anyways.
Other times I hate it, sometimes it's nice. See, I just don't know how to be in here!
Ps. Really suffer from the pines & spruces one can see from the living room window. Bleh!