Kodeissa parasta ovat kirjahyllyt. Kirjat paitsi näyttävät hyvältä, kertovat muita kivoja viestejä. Olen se tyyppi, joka kutsuilla vaivihkaa kallistaa päätään kirjahyllyn edessä. Tai ainakin haluaisi. (Olen myös se tyyppi, joka ottaa kirjan hyllystä ja lukee, jos kutsuilla on tylsää. )
Kesti melkein vuoden, ennen kuin sain omani tänne. Oikean kirjahyllyn valinta oli tuskallisen herkullista. Ja laskin kustannuksia - suuressa, mutta tilapäisessä talossa halusimme päästä halvimmalla.
Lopulta maalasin pääsiäisenä vanhat hyllylevyni valkoiseksi kellarista löytyneellä maalipurkilla ja haimme Ikeasta toiseksi edullisimmat hyllykannakkeet (annoin ehtoni ja menin katselemaan viherkasveja ja kukkaruukkuja - minulle on aivan sama, kunhan ovat valkoiset). Hyllyt kiinnitettiin muutamaan matalaan riviin pitkälle tyhjälle seinälle. Symmetria vs. epäsymmetria vs. portaittain asettelu -keskustelu päättyi väliaikaan.
Hetki ennen tavaroiden asettelua paikalleen oli hieno. Samoin ensimmäisten lehtipinojen siirtäminen lattialta hyllyyn. Kuului symbolinen korkinpoksahdus (oikeasti huokasin vain).
Kun on valmis, voiko lähteä?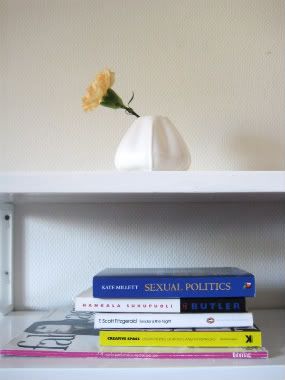 Or in other words: I love books, inside and out. So there was something a bit special when after living 10 months with random stacks and rows on the floors I got mine on the shelf.
The shelves were deeply meditated, often discussed and finally old Ikea ones painted glossy white on Easter holiday & put on with new (second cheapest) Ikea racks. Hanged on a couple of low and long rows on a lonely white wall, the debate between symmetry versus asymmetry versus ascending order was left open (in other words: I gave up & lost the argument).
Is it now time to move on - I really don't know.