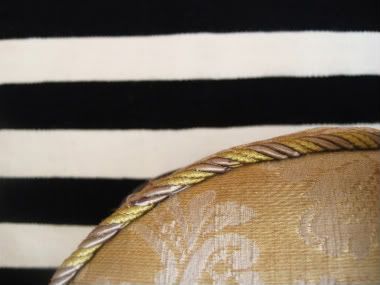 Hiljaa hyvä tulee ja muita huonoja kliseitä.
En ole koskaan ollut kodinsisustamisessa pikku hiljaa rakentavaa tyyppiä. Haluan kaiken tänne heti. Poikkis on samanlainen. On ihan sietämätöntä asua epätyydyttävässä, keskeneräisessä kodissa, jossa täydelliset kohdat vuorottelevat ihan kivojen tai ihan hirveiden paikkojen ja tavarayhdistelmien kanssa. Olisin mielummin ilman kuin eläisin ruman esineen kanssa.
Valitettavasti omakotiasuminen vaatii enemmän resursseja kuin minulla on. Se on jo miljoonas syy asua pienessä kerrostalossa. Esimerkiksi tämä matto, joka ruksattiin ostoslistalle jo vuosi sitten, pääsi lattialle vasta viime viikonloppuna. Siis äntligen kertaa tuhat - vihoviimeinen deadline oli jouluna, tai tammikuussa viimeistään. Ei vaan ole varaa.
Kokeiltiin mattoa erilaisiin paikkoihin; ei sitten päätynytkään korostamaan mustavalkoisilla raidoillaan ihan tyystin toisenlaista huonekalua. Kirjastohuone on liian pieni.
Or in other words: Doing stuff little by little is not my thing. I want everything placed right away. And am rather without than look at ugly pieces day by day. I believe ugly homes make unhappy peple - at least it makes me sour.
But this house takes a lot more resources to function than either of us has. (Even though we scavenge quite a bit.) My reason number hundred thousand to live in a small city flat; a lot less to furnish. For example, this fairly priced Ikea rug was on our shopping list already in last June. But it took till last weekend to get the thing actually on here.
After trying out on various places the rug finally went on a whole diffrent room. Although I liked the contrast between the black-and-white striped rug and my old, decorative yellow sofa, the room was too small. Sort of pity, contrasts are cool.