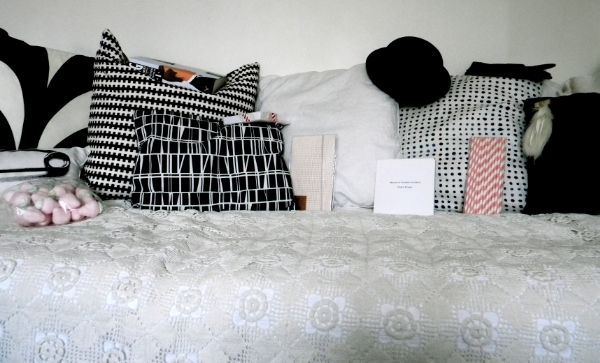 Osana tätä leikkiaikuisen elämääni rakastan saada ja antaa lahjoja. Lahjoista nauttiminen voi olla jokapäiväistä, listojen tekemistä, arkiesineiden käyttämistä, taiteen ihastelua - ja se ihana, kamala lahjapöydän perinne. Aina muutama päivä lahjojen lahjojen antamisen tai saamisen tienoilla ne lahjat kootaan yhteen ja niiden ympärillä huokailen, ihastelen ja ällistelen, kiitollisuuttani siitä että saan antaa ja ottaa vastaan, ja että joo, maailmassa tehdään kauniita, kivoja esineitä.

Viikon alussa vielä muutama synttärilahja nökötti sängyllä juhlien jälkeen. Ystävät, jotka toivat bileisiin vaahtokarkkeja, olivat tajunneet ihan oikein lempivärini, P.G. Wodehousen Jeeves & Wooster Omnibus kertoi vastauksen ihan kaikkeen. Sitä on pakko lukea ääneen, ja aksentilla.
Maailman kauneimmassa rasiassa oli pieni käärö, kaksi lippua, joilla me karataan sirkukseen. Ihanalta koulukavereilta sain Hayn puuterivaaleanpunaisen vihon, johon voin kirjoittaa dada-runoja ja automaatiokirjoituksella, washiteippiä sekä pillejä, jotka tökkäsin heti mansikka-avokadosmoothieen, jonka sävyyn raidat sopivat ihan täydellisesti. Toinen toi Lontoon -tuliaisena pienen uniikin taidekirjan. Paras ystäväni, joka tietää lempikauppani nimen ja makuni paremmin kuin minä itse, antoi jotain mitä olen hypistellyt koko talven: täydellisen istuvat nahkakäsineet. Kolmannen yliopistoystävän paketissa oli mitä ihanin heijastava rintakoru.
Hattu unohtui kuvaan muuten vain.
Lisäksi sain ruokalahjoja, jotka on jo syöty!
Or in other words: In my lame, pseudo-adult life where I pretend to pay my bills but go to sleep very late, I still love presents, to give & to get. I got such pretty presents last weekend I couldn't resist when couple of them hung out on the bed. & I gathered all of them to this embarrassing group photo. As you can see, I got marshmellows(!), Jeeves & Wooster Omnibus, tickets to the circus, a Hay notebook in dusty pink, small unique art book, straws, leather glowes and pretty neat brooch, I have the best friends girl could wish for! And something else, too, but that's already eaten.

Thank you, I'm sure I'm not worthy!