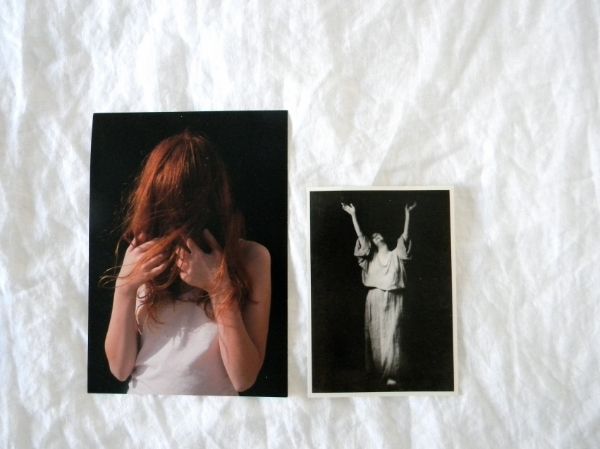 Tykkään nykytaiteesta ja pienistä gallerioista, en osaa odottaa mitään tiettyä ennakkoon. Anni Leppälän (s. 1981) valokuvia on Galleria Amassa vielä sunnuntaihin asti. Leppälän Viime vuodet -näyttelyssä oli esillä se järkyttävän kaunis vedos tytöstä punaisessa hiusnauhassa juuri ennen pimeää, mutta myös muita niin kauniita ja herkkiä kuvia, joissa punertavahiuksinen tytönhahmo piirtyy esiin tummaa taustaa vasten. En kestä. Leppälän kuvat ovat niin kauniita ja monitulkintaisia, etten edes mieti vaan nautin, mikä on superharvinaista, koska tykkään analysoida ja nähdä eri käsitteitä, asioita ja tulkintaa.

Ei Amos Andersonin
ART DECO ja taiteet,
France-Finlande 1905–1935 näyttely huono ollut. Se oli vain rajallinen. Art deco maalaustaiteessa on jäänyt hämäräksi. Se on niin vahva tyyli dekoratiivisessa taiteissa. Ääh, onko Suomessa edes taiteessa art decoa, mitä, näyttelyyn oli saatu esille Venny Soldan-Brofeltin 1920-luvun töitä, Yrjö Ollilaa sekä Nikolai Kaariolta, joka maalasi Turun modernismin liepeillä, muutama pienehkö, yllättävä työ, joissa näky 1920-luvun alun art decon pastelliset värit, antiikin vaikutus sekä Kaarion töissä geometrisuus, joka kohtaa dekoratiivisuuden ja leikittelevän sisällön tumman ja kullan värikontrasteissa. Mutta vertailu ranskalaiseen Maurice Denis'in ei välttämättä tee Juho Rissasen tai Eero Järnefeltin art decoa, sori. Veistostaiteessa art deco on paljon helmpompi nähdä vaikka Wäinö Aaltosen tyylitellyissä yli-ihmisissä tai Janssonin herkissä figuureissa.
Yllättävästi hienoin osuus oli art decon ja 1920-luvun tanssin yhteenkietoutuma. Piti hätistellä ihan kauemmas niistä. Haluan lisää Isadora Duncania!
Or in other words: Was art deco really an art form or does it show stylistically on in decorative arts? Baffled. Finnish Art Deco in painting is sure a mystery, Nikolai Kaario was a nice surprize and Venny Soldan-Brofelt's pastels, too. The concept & graphic design of the exhibition the Amos Anderson
ART DECO and the Arts,
France-Finlande 1905–1935 was a thrill, I'm not sure if the concept should be the main attraction at the show. Enjoyed the part about Art Deco & dance! Want more of Isadora Duncan!