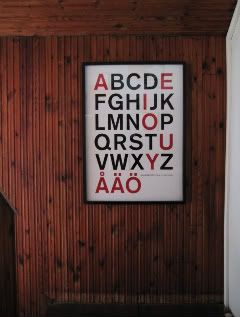 Ostimme Olunda-sisustustaulun Ikeasta viime ostosmatkalla. Se oli mahtava, sopi Vartiokylän taloon täydellisesti eikä maksanut miljoonia. Tykkäsimme siitä molemmat.

Työskentelen osa-aikaisesti muodin parissa, ja osaisin unissanikin sanoa, mikä on tulevan sesongin väri, leikkaus tai kangas. Sisustaminen on sen sijaan harrastus. Kysyttäessä mikä on tulevan kesän muotia sisustuksissa vastaukseni on öö-öö-öö ja kiemurtelua. Hassua, että olen silti ollut huomaavinani joitakin trendejä. Kuten kaikkialla pomppivat kirjaimet ja typografiat, uusvanhat peuranpäät ja joka kevät toistuvat tulppaanit. Vaikka syleilenkin muotia ja trendejä, olen sisustuksissa niissä vähän varovainen. Tiedostan, että tämän kerran olen tehnyt trendille ison kumarruksen (ellei niiauksen, ellei pyllistyksen).

Or in other words: We bought the Olunda-picture from Ikea. It was neat, it fitted the house in Vartiokylä & it was cheap! I'm used to fashion with clothing, but no so with interiors. Other one is (part-time) job & other one a hobby. It's funny to notice things, though, are in fashion also on interiors. Like typography, deer heads & tulips every spring. This is a little bow to those trends!