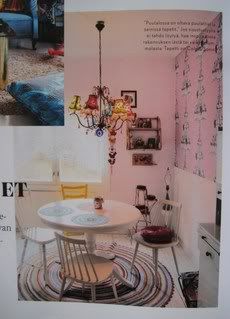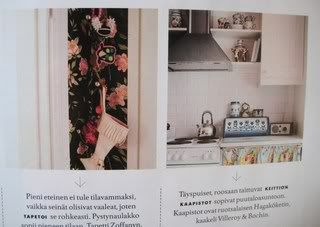 Alkuperäiset kuvat Juho Huttunen, artikkeli Liisa Jokinen, Trendi 04/01.


Paitsi tenttikirjoille, uhrasin tänään aikaa muotilehdelle.

Muotijutuista olen ollut montaa mieltä, mutta olen tykännyt Trendin sisustusjutuista. Liisa Jokisen sarjassa Jää kotiin esitellään - vähän niin kuin toimittajan muissakin sarjoissa - koteja, jotka voisivat olla persoonallisen toimittajan omia kavereita. Ehkä ovatkin. Niissä on poikkeuksetta enemmän asennetta ja kodin tuntua. Tämän kuun kitsch-koti puutalossa Käpylässä oli jotain, joka oli kuin suoraan omistettu parhaalle ystävälleni, mutta jota seurustelukumppanini ei voisi kestää. Minä seilaan siinä välissä, samassa veneessä rönsyilevän kitschin ja valkoisen minimalismin kanssa.

Or in other words: Finnish Trendi magazine's interior pieces by Liisa Jokinen look like the homes might be writer's own friends. I like! This kitsch home in a wooden house my best friend would love, too, & my partner hate. Me, I'm in-between!