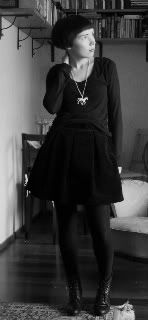 Olisin pikkutyttönä halunnut isona romaninaiseksi. Nykyisin haluaisin tutkia, miten traditio yhdistyy muotiin. Oma samettihameeni on kuin miniversio romaninaisten heimovaatteesta.
Yliopistolta kävin pankissa Hakaniemessä. Konttoriin asteli neljän nuoren romaninaisen ryhmä. Ihania mustia samettihameita! Kaikilla oli kapeankapeat vyötäröt, kuvankauniit kasvot ja pitkät kiharat.

Heppakorun heitin tuomaan kokomustaan asuun (mukaanlukien silmänaluset) väriä. Muuhun ei uskallus riittänyt - tenttipäivä on turvavaatepäivä.

Or in other words: Looking like midget. Where's my back, how did my head get so big? Staying up late studying & worrying. All black, including the bags under the eyes. Saw some pretty amazing long black velvet skirts at the bank. Mine is a mini.