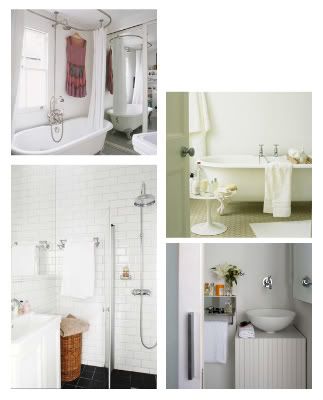 Perjantaiyön kuumuudessa haaveilen viileästä suihkusta. Idässä omakotitalon yläkerran kylpyhuoneessa näytti lattialaatta vähän hassulta. Litsis, lätsis, sanoivat lattialaatat. Kun kurkittiin, niiden alla oli uima-allas. Saumaukset kuulemma pettävät joskus. Vuokraisännän mukaan ongelma on hoidossa ennen muuttoa.
Kylpyhuoneissa tärkeintä on suihku, valo ja valkoiset kaakelit. Kaikkein tärkeintä on kuitenkin se, että se on.
Or in other words: There was a funny look at floor tile at the upstairs bathroom. We took a peek. It was swimming. We both grew very solemn (if not panicky). A new bathroom floor, said the land lord, should be done before the end of the month.
So you see, I have a hope of a new bathroom. Or if only a bathroom. Sometimes things just need to be.