Olen huono sandaali-ihminen. En omista yksiäkään sandaaleja. En ymmärrä, miksi pitäisi. Jalkani palelevat aina, en välitä katsella jalkateriäni enkä ymmärrä, miten sandaalien kanssa voi kävellä hiekkateillä.
Ihastuin pari vuotta sitten Vagabondin gladiaattorisandaaleihin. En koskaan omistanut niitä, vaikka etsin niitä samoja ja kaikkia muita. Vagabondin tämän kevään gladiaattorit eivät ole aivan yhtä hienot, mutta ovat ensimmäiset vastaan tulleeni, joiden ulkonäkö vastaa kriteerejäni - ne ovat mustat ja niissä on remmejä, soljet, tasainen pohja & vetoketju takana, tai ovat edes lähellä niitä. Lisäksi niissä on tarpeeksi kapea lesti, jotta ne sopivat edes joten kuten eivätkä hölsky tai näytä liian suurilta. Niitä valmistetaan koossa 35. Sandaaleissa ei voi voi huijata koon kanssa pohjallisilla, sukilla tai nyörittämällä ne kunnes veri ei kierrä.
Nämä uutuudet ovat lähes täydelliset. Nyt pitäisi enää muistaa, miksi alun perinkään halusin gladiaattorisandaalit. Minkä kanssa näitä käyttää? Mitä ajattelin?
Ei voi tietää. Mutta tässä ne ovat.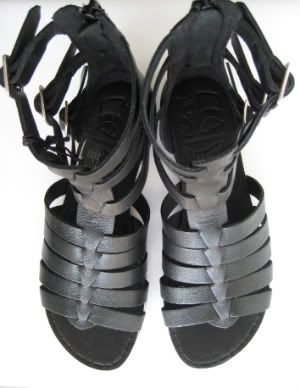 Or in other words: I'm no sandal girl. I have often cold feet, I rather dislike my toes and
how do people walk with them on sand anyway?
I have no idea why I originally wanted gladiator sandals. But these by Vagabond are the best I've come up so far - flat and black leather with buckles and straps. And they fit fairly good, which is essential in any open shoe type.
But here they are, and so is the summer. Any idea how to wear these?