Joku kysyi saako Hämeentien Talossa hyvää ruokaa. Muistaakseni, ja muistaakseni olin oikeassa! Talon tapakset saivat minut autuaaksi. Salaatit ovat myös hyviä - vaan mikä ihme nillittäjä minuun on mennyt, sillä useamman kuin yhden kasvisvaihtoehdon puuttuminen sai minut rypistämään kulmiani. Päivän annostakin olisi pitänyt saada soijarouheella, tai ainakin tiedustelemalla. Nirso kasvissyöjä, eikö niille mikään kelpaa. Talon annosten parhaus on yksityiskohdissa: maustettu balsamico vei kielen mennessään.
Muuten - musiikki oli kuin valittu miellyttämään meidän kaltaisiamme tyttöjä - Placebo, The Cure, Kent ja Marcy Playground ovat kivaa vaihtelua.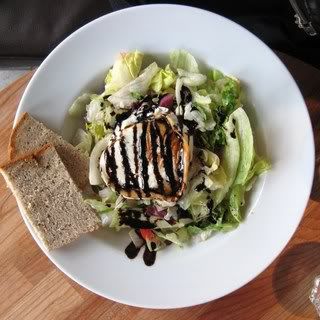 Chevré-kanasalaatti ilman kanaa.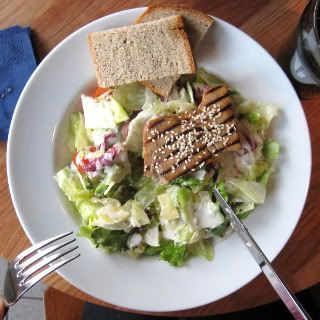 Tonnikalasalaatti.
Tapaslautasella oli tiistaina oliiveja (nam), talon perunasalaattia, crackereitä, joiden päällä balsamicolla lurautettua vuohenjuustoa, fetajuustoa ja marinoituja artisokansydämiä.
Ps. Löysin vihdoin kesän silkkihuivin! Vanhassa huivissa oli niin sopivat värit, että se lähti mukaan Ansasta!

Or in other words: Lunch at local bar-restaurant Talo in Kallio was yummie and has put in me in the mood for more 90's Placebo, Marcy Playground, The Cure & Kent. Ps. Summer silk scarf brand new from Ansa vintage store!