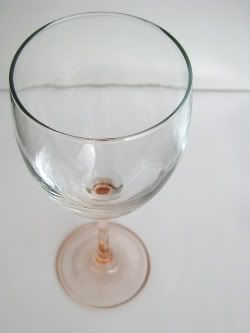 En olisi ehkä koskaan tullut määritelleeksi millaiset ovat kivat viinilasit, ellen olisi kohdannut näitä laseja Hietsun kirpparilla viime kesänä. Bing, instant love. Laseja oli neljätoista, seitsemän viinilasia ja seitsemän cocktail- tai shamppanjalasia. Viinilasit ovat tukevaa, kirkasta lasia, ne ovat suhteellisen pieniä, jolloin kaataa viiniä reippaasti eikä sen tarvitse lämmetä lasissa. Ne ovat miellyttävät pidellä. Ja jalka - se on ihanan värinen, murrettu lämmin roosa.
Värillinen lasi tulee muotiin taas kaikkien muiden 80-luvun asioiden kanssa. Ellei muuten, niin siksi että kirppareita koluavat opiskelijat saavat näitä nyt halvalla.
Ps. Poikkiksella on Iittalan Essencea. Niiden kulmikas muotoilu, korkea jalka ja ohut, hauras lasi eivät herätä minussa mitään tunteita. Viinilasit eivät tarvitse niin paljon; kaarevan viinilasin klassinen muoto ja läpinäkyvä materiaali ovat kauniita itsessään.
Or in other words: Without these belles I would have happily drunk my white wine with glasses from Ikea. Last summer I saw 14 wine & cocktail or champagne glasses at Hietalahti flea market. I thought the price too high & the buyer wouldn't budge. We walked two blocks before turning back & picking the whole set up. It was love.
Ps. Bf likes & collects the Essence glasses by Iittala. They're ok, I suppose, but not my thing. Overall, wine glass needs in my opinion very little.