Haaveilin joskus 2000-luvun puolivälissä herkästä vaaleanvihreästä makuuhuoneesta. Sitten minulle kerrottiin, että vihreän seinän kautta heijastuva valo näyttää ihon epäedullisen värisenä ja suunnitelma hylättiin. Unohdin ajatuksen.
Unelma muistui mieleen, kun pysähdyin tämän kuvan kohdalle.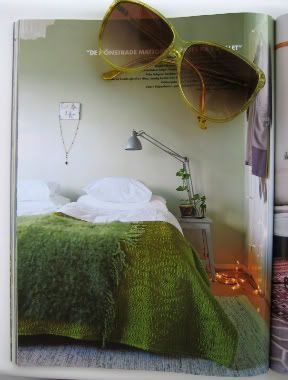 Kuva lehdestä Elle Interiör, 5/2010, Petra Bindel.
Or in other words: I had a dream about light green bedroom walls once. Back in the mid-2000's I was told how unflattering it would look reflecting the light on people's skin. We abandoned the idea for a more favourable soft yellow.
The dream came to me again when saw this picture from a perfect green bedroom on May issue of Elle Interiör by Petra Bindel.