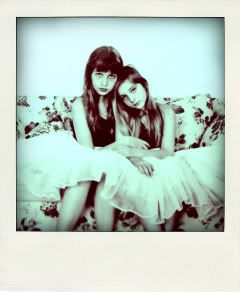 Kuvat Nelli Palomäen ja Mikko Sinervon teoksista.
Taidemuseo Meilahden vasta päättynyt Helsinki Schoolin näyttely oli pakko käydä katsomassa. Pakko, monessakin mielessä. Susanna Majuri on yht'äkkiä valokuvan supertähtiä. Nelli Palomäki tekee perinteisiä hopeagelatiinivedoksia (ihanaa). Milja Laurilan muistia sivuava sarja ja Anni Leppälän vaatteilla koreilevat tytöt jäivät puhumaan päähäni. Noomi Ljungdell oli yhdistänyt semiotiikkaa, valokuvaa ja typografiaa ja lopulta poistanut yhtälöstä yhden!
Ja tämä yksi, jonka aihe oli yksinkertaisesti valon aistiminen. Sekä se toinen (Joonas Ahlava), joka tutki taiteessaan aivosolujen yhdistäviä kytkentöjä.
Or in other words: Presenting photography & video art now, the exhibition of Helsinki School at Meilahti was a must on more than one way. Sneeking up to take a couple of snapshots from the works of Nelli Palomäki & Mikko Sinervo spelled g-u-i-l-t-y.