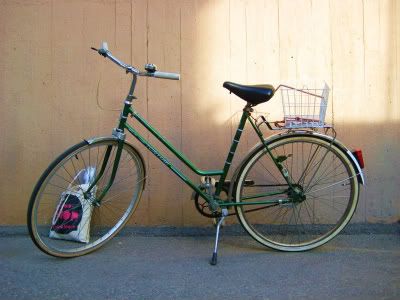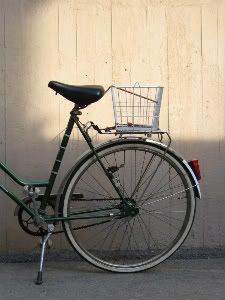 Sain äidiltäni hänen vanhan polkupyöränsä, kun oma pyöräni katosi kellaristamme. Viime viikolla sain sen vihdoin käyttöön. Pyörä on liikennevälineenä huippu. Fillarilla ajaessani tunteeni ovat sekoitus riemua ja kauhua, pelkoa, ylpeyttä ja noloutta.
Myöhemmin: Haluaisin korin pyörän eturunkoon. Pelagolla, jonka polkupyörät ovat liikuttavan kauniita, on kuulemma valikoimissaan myös koreja! Pakko polkea Eurantie 12:sta vielä tällä viikolla! Nykyinen viritys on peritty pyörän edelliseltä omistajalta, joka myös arvostaa pyöriin liittyviä käytännöllisiä lähtökohtia.
Or in other words: The bike is my mum's old I got when mine was stolen. Riding it is mix of feelings - joy, panic, fear & pride.