To illustrate our little project I took some snapshots. The upstairs room is next to the bigger bedroom. It is longish, with three windows and odd angles and four small cupboards. The best part of the room is the slanting roof and the beautiful evening light. I've always loved those.
At first my bf was supposed to live the house only 'till he got something else. He was to house-sit the building after its previous occupants had had a divorce and the family went apart. With 6 rooms and three storeys it's for a single guy a bit on the larger size.
During the years, other rooms got a purpose while this little attic room gathered junk.
After the room was emptied on this past winter it revealed pretty poor state. The paper on the walls was frayed, bubbly and stained. But there were no water marks. The wood floor was gone from acid yellow to angry orange. The ceiling plates were distorted and the screws had left marks.
But it had potential. I love it more than any other room in house - perhaps just the western light and small, odd angles. Or maybe 'cause it's been so long unhabited and lonely
The windows are little rustic, too. But I don't wanna do a thing to that. We'll let them be, like that, showing example that once the window fittings were painted bright yellow.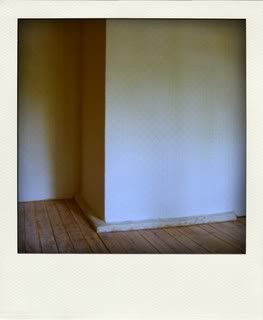 The cupboard doors are pretty garish, though original and showing nicely the the material. They have locks only, no handles. As of now they're full of junk - other people's and his. In my dreams they habit my fabric supply, shoes and old handbags. You're probably looking a cleaning cabinet, though.