Tänään tein nopean kierroksen Fleminginkadun Ansassa. Siellä oli paljon ihania, ihania juttuja! Himoitsen eniten itselleni ehkä vanhoja, hienoja nahkalaukkuja sekä kenkiä. Vedettyäni kunnolla vanhojen tavaroiden ja vaatteiden hajua sisääni poistuin ovesta ulos - ostamatta mitään!
Koska minulla ei ole varaa (eikä tilaa!) ostaa omakseni kaikkea ihanaa ja haluamaani, olen yrittänyt keksiä vaihtoehtoisia kuluttamisen tapoja. Eräs keino on asioista bloggaaminen; niistä kirjoittaminen ja valokuvaaminen. Toinen, paljon vaarallisempi keino hankkiutua pois omistamisen himoista, on tavaran ostaminen, vieminen kotiin ja harkitseminen kotona - tarvitsenko tätä oikeasti, voisinko käyttää vähät varani paremminkin - ja sitten vieminen (ehjänä, siistinä ja laput kauniisti kiinni) takaisin kauppaan. Kauppojen palautusoikeutta voi käyttää hyväkseen näin, uskottelen itselleni.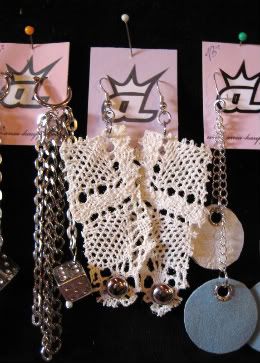 Minä en voi koskaan kulkea pitkin Fleminginkatua menemättä kadun toiselle puolelle ja katsomatta Ansan näyteikkunaa.
Ansa on avoinna maanantaista perjantaihin 12-18 ja lauantaisin 12-16.


Ps. Ansan nettisivut ovat ehkä ihaninta ikinä! Mahtavaa nähdä joskus kauppa, jonka sivut ovat oikeasti hienot!
Or in other words: I've tried in many ways to limit my shopping - nor my purse, nor my wardrobe can handle buying everything I fancy. One alternative mean to own things is to blog about them. Today I made a quick tour at the second hand & vintage shop near my neighbourhood, Ansa. Ohh, if only I could have taken home just about everything. I collect old handbags & shoes (I'm size 3 / size 5) like stray cats - I would give them a good home!
Ansa is located in Helsinki at Fleminginkatu 8 & open thru Monday to Friday 10-18 and Saturdays 12-16.