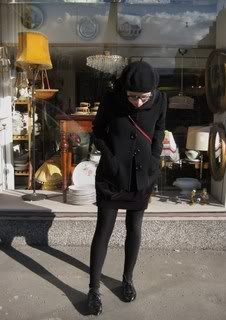 Unohdin suoristusraudan poikkiksen luokse. Se, että tukka, joka on täysin suora, kaipaa suoristusrautaa, on muuan elämän suurista ristiriidoista. Kun oli pakko lähteä yliopistolle kopioimaan artikkeleita, laitoin otsiksen pinnillä kiinni ja päähän myssyn.


Kauhea virhe. Näytän ilman otsatukkaa aivan äidiltäni.


Or in other words: I forgot my straightener back at bf's. That I need
a straightener on my totally straight hair is one of the great contradictions of modern life. So when I had to go over to university to copy some articles I put a pin on my fringe and beret on my head.